80 Programs Headend H.265 DVB-(T) Total Solution IP Based
Writer:Dexin Digital Technology Corp. Ltd. Addtime:15/Aug/2018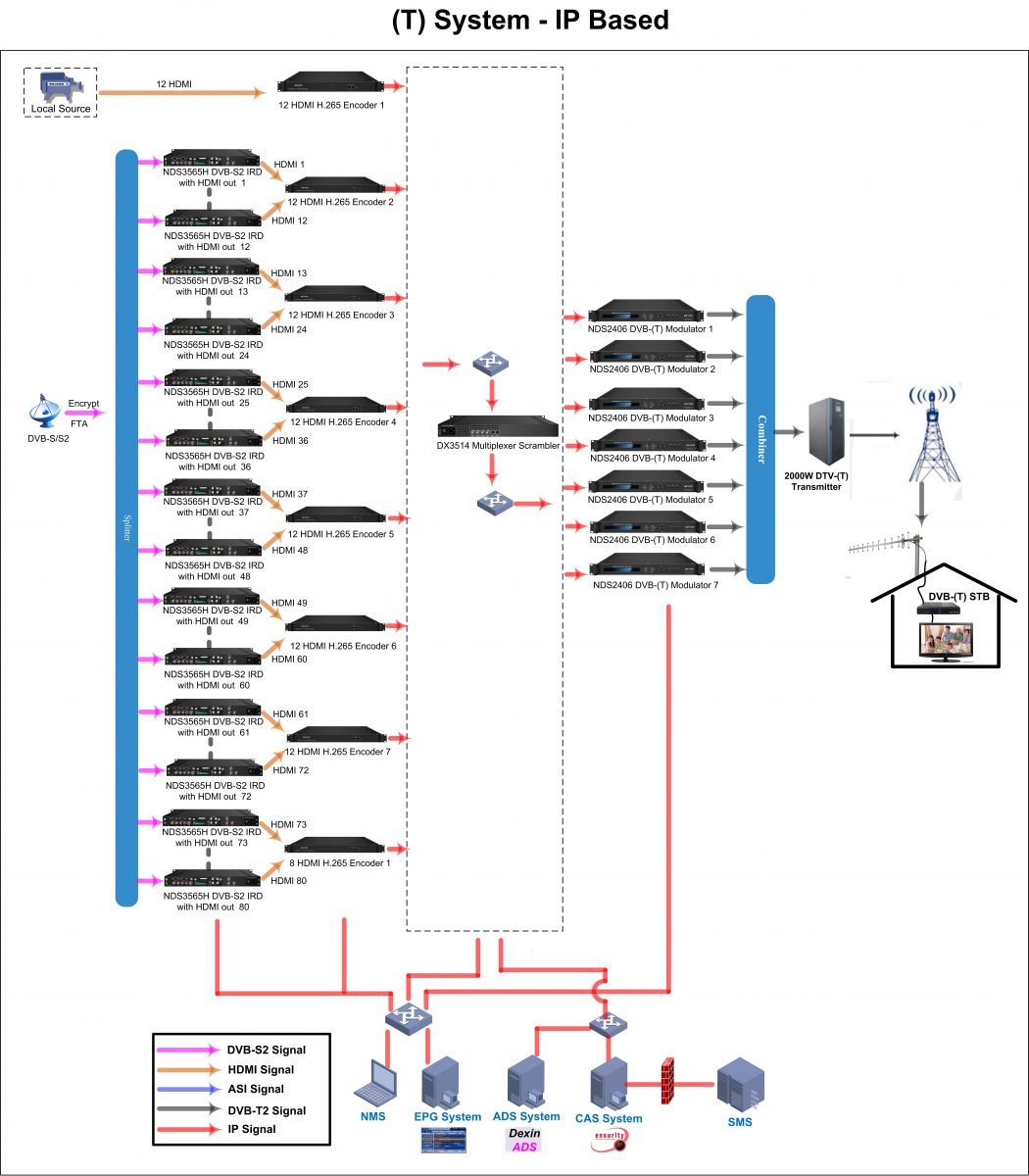 1 About the Data Source
| | | |
| --- | --- | --- |
| Data Source | Program Number | Mark |
| Local made Program | 12 | HDMI HD Program with H.265 |
| Satellite Program | 80 | Encrypted/FTA HD Program with H.264 |
2 Devices Involved
Data Source

Function

Mark

NDS3224V HEVC/H.265 Encoder

HDMI HD Program

Input: 12 HDMI interface

Output: 1 MPTS and 4/8/12 SPTS output

NDS3565H HD IRD

To decode encrypted channel

Input:2 DVB-S2 tuner input, 1 IP input and 1 ASI input

Output: 2 ASI,1 IP (1*MPTS & 8*SPTS) and 1 HD channel output decoded

DX3514 Multiplexer Scrambler

ASI&IP input/output, with multiplexer and scrambler function

Input: 128 IP from 3GE ports, max 4 ASI input

Output: 4 IP output, max 4 ASI out

Support Multiplexer, Scrambler

NDS2406 DVB-(T) Modulator

Convert ASI/IP to DVB-(T) RF

Input: 4 ASI and 1 IP

Output: DVB-(T) Modulation

DUT-8323 DVB-(T) Transmitter

Wireless Transmission
3 Devices Number Needed:
Data Source Part:
NDS3224V Number=92/12=7.6=7 pieces (12 HDMI) + 1 piece (8 HDMI)
NDS3565H Number=80/1=80 Pieces
DVB-(T) RF output Part:
By using 64QAM, 8MHz, each DVB-(T) frequency can transfer around 38Mpbs.
Each HD H.265 channel takes 3Mbps
The number of HD H.265 channels carried by each frequency=38/3=12.6 =12 Programs/frequency
The frequency needed for HD H.265 channels=92/12=7.6=7 frequency (if some channels can set lower bitrate like 2.5Mbps, 7 frequencies is enough to carry 92 HD channels.)
DVB-(T) Transmitter Part
Suppose the bandwidth for transmitter is 80MHz, and for DVB-(T) modulator is 8MHz, then one transmitter can max carry 80/8=10 Modulators. So the total number for transmitters is 7/10=0.7=1 set.
Total Decive Number:
Hardware

Device

Piece

NDS3224V HEVC/H.265 Encoder

8

NDS3565H HD IRD

80

DX3514 Multiplexer Scrambler

1

NDS2406 DVB-(T) Modulator

7

DUT-8323 DVB-(T) Transmitter

1

Software

CAS

1

EPG

1

SMS

1

NMS

1