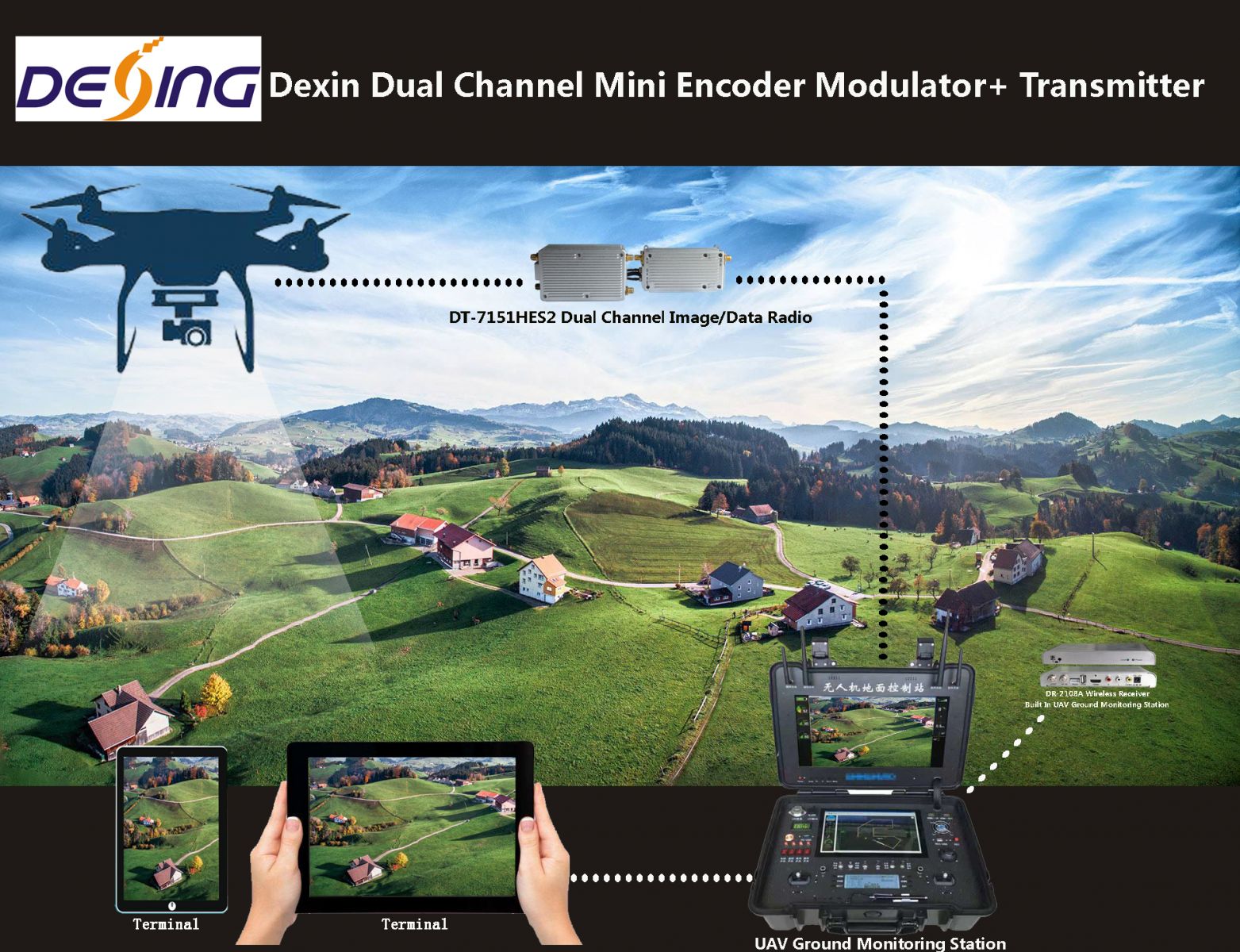 Outline
Dexin DT-7151HE packs of SDI input and HDMI input into a mini size transmitter. It is usually used together with the low latency receiver DR-2108A, and composed a set of real-time image transmission system. It converts the control protocol, signal from the mini camera into RF and send back to ground wirelessly, it can realize real-time check the longitude, latitude and the altitude of the drone aircraft. The returned signal will be received by the receiver and displayed on TV screen. DT-7151HES is used in a variety of UAV monitoring, aerial photography and other areas, as well as electricity, hydrology and other monitoring.
Main Features
l Support standard HDMI and SDI(CVBS Optional) wireless transmission, support up to1080P resolution
l Frequency & Transmission distance: 300MHz-860MHz can reach 10-15 km; 860MHz-2400MHz can reach 1-3 km.
l Receiving frequency range: 100MHz-932MHz
l Transmission delay: 130-200ms and 180-280ms(after scrambling)
l H.264 encoding format, high quality encoding
l Support BISS scrambling and descrambling
l Channel selectivity and channel spurious suppression characteristics
l Excellent receiving sensitivity, stable image transmission at high speed above 230km/hours
l 1W, 3W, 5W, 10W, 20W power option.
Principle Chart

Transmitter Specifications:
Video

Interface

HDMI and SDI input (CVBS optional)

Resolution

1920x1080_30P,

1920x1080_60i, 1920x1080_50i

1280x720_60P,1280x720_50P

720x576_50i, 720x480_60i

Video Format

PAL/NTSC

Encoding Format

MPEG-4 AVC/H.264

Bitrate

0.8Mbps~30Mbps

Rate Control

VBR

GOP Structure

PPPP

Audio

Encoding Format

MPEG-1 Layer2

Sampling Rate

48KHz

Resolution

24-bit

Bite rate

64Kbps

RF frequency

300~2400MHz, 10 KHz step

RF Output and Power

300MHz-860MHz, ≤3W

860MHz-2400MHz,≤500mW

RF Interface

RF output (RPSMA )

Modulation mode

COFDM DVB-T

Bandwidth

2M, 4M, 6M,7M,8M

Transmission Rate

1-8Mbps

Code Rate

1/2, 2/3, 3/4, 5/6, 7/8

Guard Interval

1/32, 1/16, 1/8, 1/4

Constellation

QPSK, 16QAM, 64QAM

Transmission Mode

2K 4K 8K

MER

≤25dB

Transmission Delay

130-200ms and 180-280ms(after scrambling)

Antenna interface and impedance

RPSMA male, MMCX female,impedance 50Ω

Operating Voltage

DC 12V ~ DC 48V

Temperature

-10℃ ~+50℃ (Operating); -20℃~75℃ (Storage)

Transmission Distance

100MHz-860MHz, 10-15km

860MHz-2400MHz, 1-3km

Weight

≤182g (antenna and cables are exclusive)

Dimension

Encodulator

80(L)*48(W)*23mm(H)

Amplifier

68(L)*43(W)*20mm(H)
Receiving Box:
Model NO

DR-2108A

RF frequency

100MHz-932MHz

Input Impedance

75Ω

Receiving sensitivity

-95.8dBm

Channel Band Width

6M/7M/8M

Constellation

QPSK, 16QAM, 64QAM

Guard Interval

1/32, 1/16, 1/8, 1/4

FEC

1/2, 2/3, 3/4, 5/6, 7/8

Carrier Mode

2K 4K 8K

Transport Stream

MPEG-2 MP@HL/ML

Video Aspect Ratio

4:3/16:9

Video System

PAL/NTSC

Video Output

1±0.3Vpp

Video Resolution

HDMI

1920x1080_30P,

1920x1080_60i, 1920x1080_50i

1280x720_60P,1280x720_50P

720x576_50i, 720x480_60i

CVBS

720x576_50i, 720x480_60i

Audio Decoder

MPEG-2/HE_AAC

Audio Output

R/L/ST

A/V Output interface

HDMI, CVBS, YPbPr

Upgrade and Multimedia Port

USB

Power Consumption

≤10W

Power Supply

DC+12V~24V±10%

Operating Temperature

-10℃~+50℃

Dimension

160*65*22mm