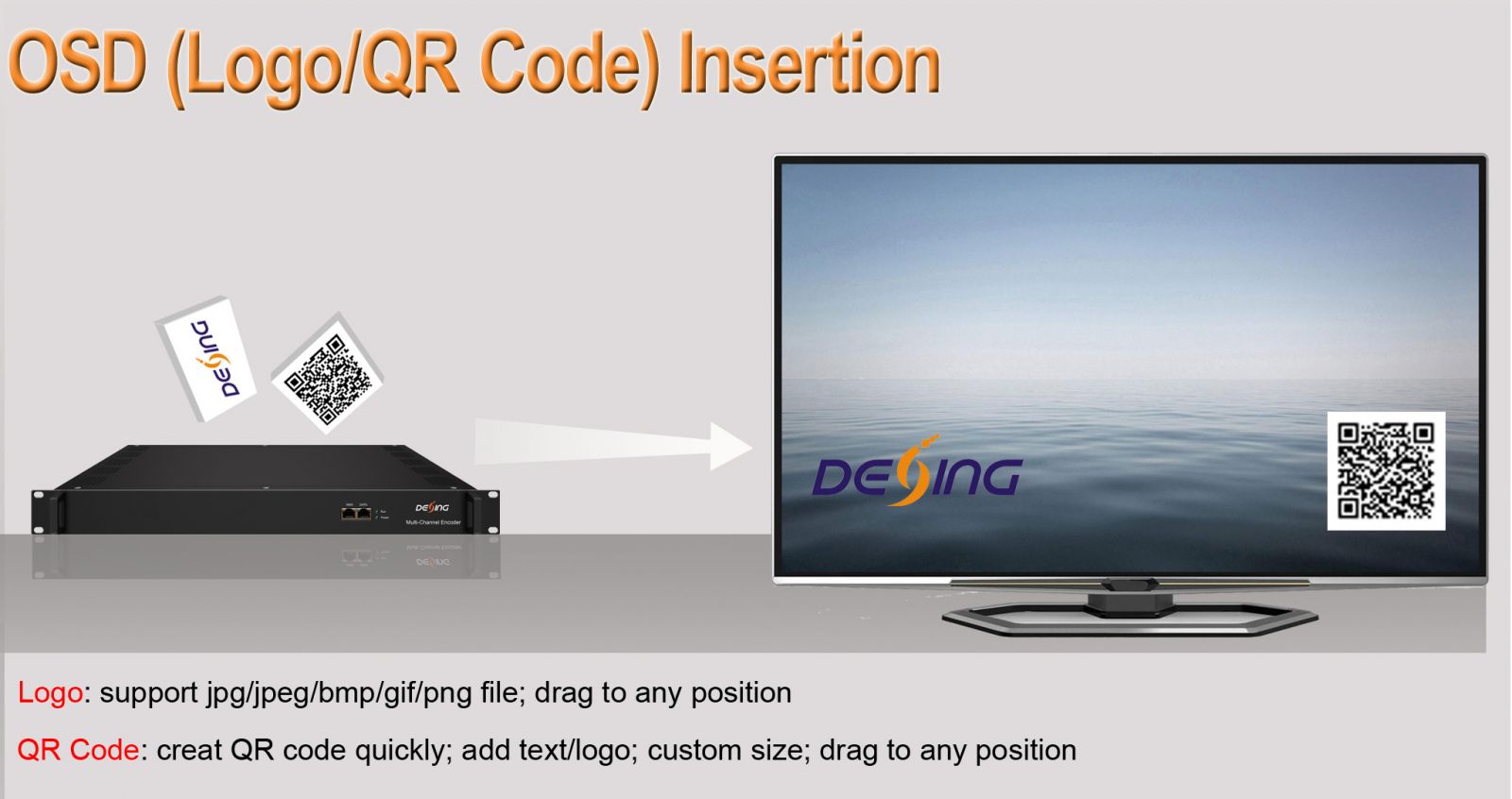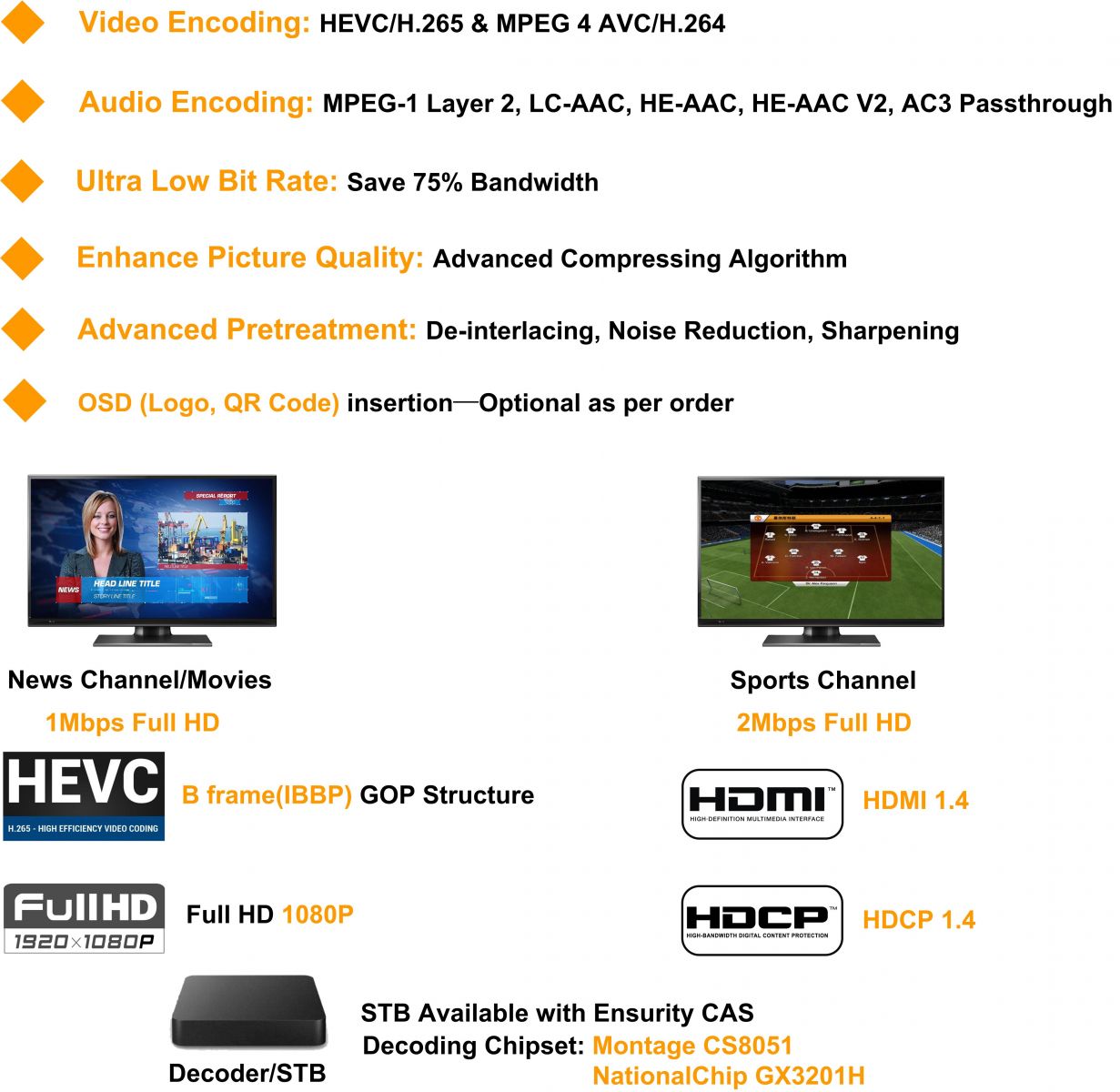 Principle Chart of Per Module
(The number of encoding channels depends on encoding format and resolution)
Technical Specification
4/8/12×HD-SDI(Option)or HDMI(1.4) inputs for option, HDCP 1.4

Video

Encoding

Encoding Format

HEVC/ H.265 , MPEG 4 AVC/H.264

Resolution (HDMI V1, and SDI)

Input

Output

HEVC/H.265

MPEG-4 AVC/H.264

4*1080P-50

4*1080P-50

2*1080P-50

4*1080P-60

4*1080P-60,

2*1080P-60

4*1080I-50

4*1080P-50

4*1080I-50

2*1080P-50

4*1080I-60

4*1080P-60

4*1080I-60

2*1080P-60

4*720P-50

4*720P-50

4*720P-50

4*720P-60

4*720P-60

4*720P-60

Resolution (HDMI V2)

3840×2160_30P, 3840×2160_29.97P

(Encoding 2 CHs per module for H.265, and encoding 1 CH for H.264 )

1920×1080_60P,1920×1080_59.94P,1920×1080_50P,

(Encoding 4 CHs per module for H.265, and encoding 2 CHs for H.264)

1280×720_60P, 1280×720_59.94P, 1280×720_50P

(Encoding 4 CHs per module for H.264 and H.265)

Chroma

4:2:0

Bitrate

0.5Mbps~20Mbps(each channel)

Rate Control

CBR/VBR

GOP Structure

IBBP, IPPP

Advanced Pretreatment

De-interlacing, Noise Reduction, Sharpening

Audio Encoding

Encoding Format

MPEG-1 Layer 2, LC-AAC, HE-AAC, HE-AAC V2, AC3 Pass-through

Sampling rate

48KHz

Bit-rate (each channel)

48Kbps~384Kbps (MPEG-1 Layer 2& LC-AAC)

24 Kbps~128 Kbps (HE-AAC)

18 Kbps~56 Kbps (HE-AAC V2)

Audio Gain

0~255

Stream output

IP (4 SPTS) output over SRT, RTP,RTSP, RTMP, HTTP, HLS per module, 1000M/100M Base-T Ethernet interface (unicast/multicast); IPv4, IPv6 output

IP null packet filter

System

Web based management

Chinese-English control interface

Ethernet software upgrade

Miscellaneous

Dimension (W× L× H)

482mm×328mm×44mm

Approx weight

5kg

Temperature

0~45℃(work), -20~80℃(Storage)

Power

AC 100V-220V±10%, 50/60Hz
Order Guide
NDS3224V-N

HDMI V1

NDS3224V-N

HDMI V2

NDS3224V-N

SDI(Option)

Input

4/8/12 HDMI

4/8/12 HDMI

4/8/12 SDI

Resolution

1080p, 1080i, 720p

4K-30p, 1080p, 720p

1080p, 1080i, 720p

OSD (logo/QR code) Insertion Function

support

optional

optional
Dexin HEVC/H.265 encoder's advantages
1. Providing smooth TS for modulators
Dexin HEVC/H.265 encoder adopts Fujitsu chip which offers stable bitrate with lower fluctuation compared with other encoding chips, so it provides smooth TS for modulators. Itis widely used in variety of digital distribution systems such as CATV digital head-end, satellite and terrestrial digital TV, etc.
2. Encoding with highest compression format—B frame (IBBP)
What is B Frame?
Thereare 3 major picture types used in the different video algorithms, they are I, P and B.
They are different in the following characteristics:
I‑frames are the least compressible but don't require other video frames to decode.
P‑frames can use data from previous frames to decompress and are more compressible than I‑frames.
B‑frames can use both previous and forward frames for data reference to get the highest amount of data compression.
| | | |
| --- | --- | --- |
| | Byte of data/KB | Compression Ratio |
| I | 18 | 7:1 |
| P | 6 | 20:1 |
| B | 2.5 | 50:1 |
In one word, B frame is the highest compression format which makes it possible to process HD video at low bitrate. HEVC/H.265 encoder is not able to save bandwidth unless it is with B frame.In encoder parameters, B frame is often describedin GOP (Group of Pictures) structure, like "IBBP".