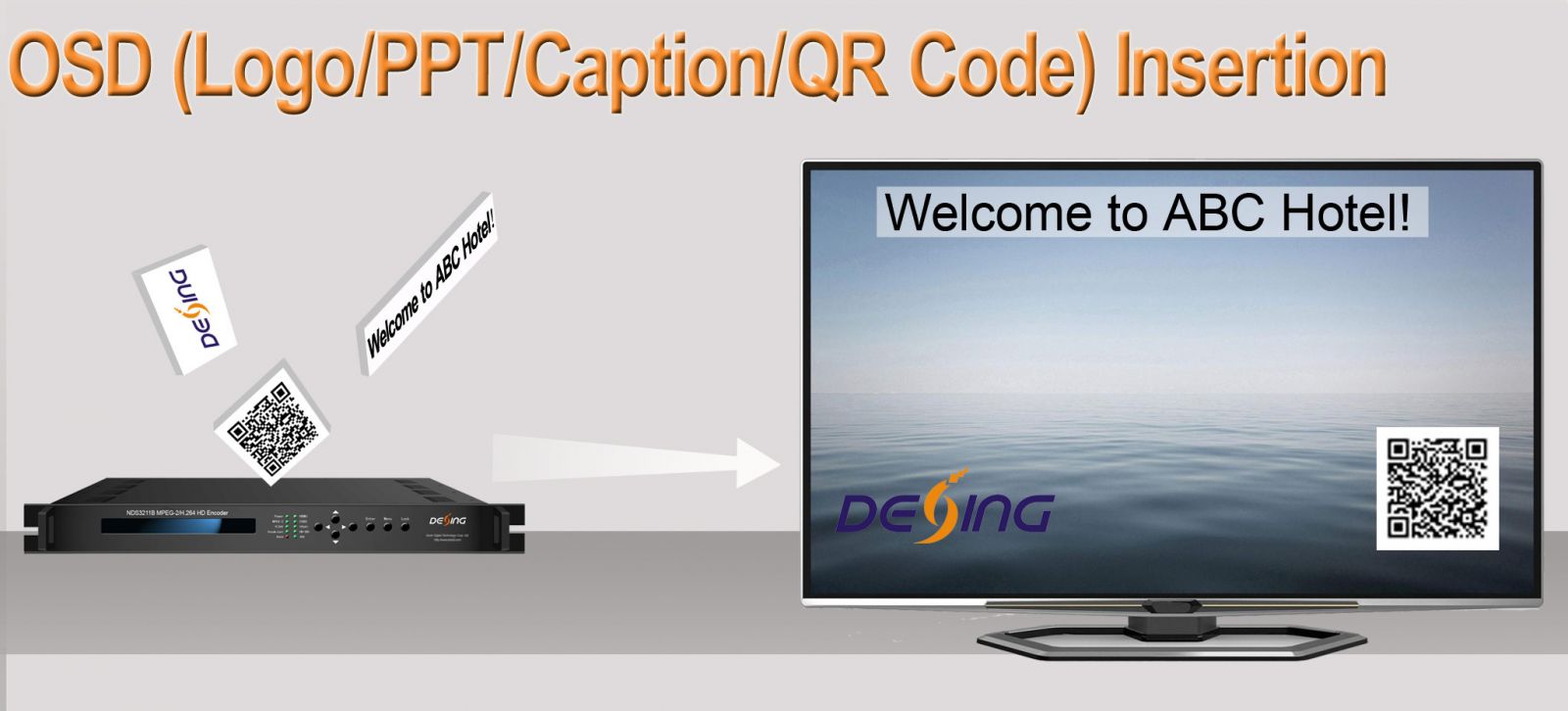 Outline
NDS3211B Mpeg-2/ H.264 HD Encoder is the new broadcasting audio & video encoding device with powerful functionality. It is equipped with multiple video input interfaces (HDMI, SDI, YPbPr and CVBS) and audio input interfaces (AES, BNC and XLR) to make it possible to compatible with different signal sources.
Multiple audio and video encoding formats are available to meet customers' various requirements. It supports 2 stereo to mix with the video to form a stream output. The encoded program will finally output in TS through ASI/IP port.
NDS3211B is also featured with OSD (QR code, LOGO and Caption) insertion function and can display multiple elements at same time. Operator can insert advertisement picture, own LOGO, special QR code, Text content in encoding process independent of STB. It will bring more profit for product user.
Key Features
Support QR code, LOGO, OSD inserted(Language Supported: 中文, English, العربية, اردو , for more languages please consult us…) (Optional)
MPEG-2 HD/SD and MPEG-4 AVC/H.264 HD/SD video encoding
MPEG1 Layer II, HE-AAC (v1&v2), LC-AAC and DD AC3 audio encoding
Support DD AC3 audio passthrough (for SDI in) (Optional)
Support 2 stereo audio encoding
Support ASI output and IP over UDP and RTP output
Support 1080I,720P, 480I, 576I video resolution and downscale transform
Support video buffer, free to switch video sources (all video interface available)
Support CC (closed caption), EIA 608 and EIA 708 (for CVBS and SDI in)
LCD / keyboard control and web management
Support low latency
Inner Principle Chart

Specifications
Interface

1×HDMI, 1×HD-SDI, 1×YPbPr and 1×CVBS (only for CC)

Resolution

Input

Output

Interface Applicable

1920×1080p@60/59.94

1920×1080p@60,

SDI, HDMI

1920×1080p@50

1920×1080p@50

1920×1080i@60/59.94

1920×1080i @60

SDI, HDMI, YpbPr

1920×1080i @50

1920×1080i @50

1280×720p@60/59.94

1280×720p@60

1280×720p@50

1280×720p@50

720×576i@50

720×576i @50

SDI, HDMI

720×480i@60

720×480i @60

Encoding

MPEG-4 AVC/H.264 HD/SD

Bitrate Range

2.5 – 19.00 Mbps

Rate Control

CBR/VBR

GOP Structure

IP, IBBP, IBBBP

Chroma

4:2:0

Audio

Interface

2×XLR, 2×AES, 2×BNC, 1×SDI (support maximum 2 stereos synchronous processing), 1×HDMI,

Encoding

MPEG-1 Layer II, HE-AAC (v1&v2), LC-AAC, DD AC3 (2.0)

DD AC3 pass-through (for SDI and HDMI in)

Sampling rate

48KHz

Bit-rate

32Kbps~384Kbps

Stream Input

2 ASI Input for remux

Stream output

2×ASI output ports, BNC interface

2 IP (MPTS) over UDP / RTP /RTSP, 1000 Base-T Ethernet interface*2 with independent IP addresses (multicast/unicast)

System function

LCD/keyboard and web management

Language: English

Ethernet software upgrade

General

Dimensions

482mm×405mm×44.5mm (W × D × H)

Temperature

0~45℃(Operation), -20~80℃(Storage)

Power

AC110V±10%, 50/60Hz; AC 220V±10%,50/60Hz

Consumption

16W
Technical Comparison
NDS3211B

NDS3211B(V2)

NDS3211HS

Chipset

Magnum

Vixs

Hisilicon

Video Encoding

MPEG-2 HD/SD;

MPEG-4 AVC/H.264 HD/SD

MPEG-2 HD/SD;

MPEG-4 AVC/H.264 HD/SD

HEVC/H.265 HD/SD

MPEG-4 AVC/H.264 HD/SD

Bit Rate

0.20 – 60.00 Mbps

2.5Mbps~19.0Mbps

1Mbps~15Mbps

HDMI Resolution

HD

HD/SD

HD/SD

Audio Encode

MPEG-1 Layer II,

HE-AAC (v1&v2),

LC-AAC,

DD AC3 (2.0),

DD AC3 pass-through (for SDI in)

MPEG-1 Layer II,

HE-AAC (v1&v2),

LC-AAC,

DD AC3 (2.0),

DD AC3 pass-through (for SDI and HDMI in)

MPEG-1 Layer II, HE-AAC (v1&v2), LC-AAC,

DD AC3 pass-through (for SDI and HDMI in)

Audio Channel

Up to 4 stereos

Up to 2 stereos

Up to 2 stereos

Rate Control

CBR

CBR/VBR

CBR/VBR

Aspect Ratio

16:9, 4:3, 14:9

16:9, 4:3

Chroma

4:2:0, 4:2:2

4:2:0

4:2:0

Video Buffer

Yes

Yes

N/A

ASI In & Mux

N/A

2 ASI input for remux

2 ASI input for remux

IP out

1SPTS over UDP/RTP

1 MPTS over UDP / RTP /RTSP

1 MPTS over UDP / RTP /RTSP

Low Delay

150ms, 200ms, 350ms, 650ms

170ms, 220ms, 350ms,670ms

N/A

Closed Caption

EIA 608 and EIA 708

EIA 608 and EIA 708

EIA 608