Introduction:
Dexin ADS refers to the EPG advertising system developed by our company. It is an important application in the digital interactive TV. Like CAS, EPG and SMS system, it is a basic service which is regarded as the symbol of digital TV.
EPG advertising system adopts digital television data broadcasting technology to push advertising information such as text, graphics and video to the digital TV receiving terminal (STB), and carried out advertising services in the digital TV terminal. The system is able to help terrestrial, cable, satellite operators for booting advertising, volume advertising, EPG advertising, text advertising and support user management, program management, ad element management, and ad scheduling management functions. Dexin ADS has greatly helped to offer value-added services for the head-end operators.
Comply with DVB Standard

User Friendly Interface

Visual Programming

User & Program Management

Flexible Ad Release Control

Multi Ad Forms Supported

Easy Integration

Language Localization

Cost Effective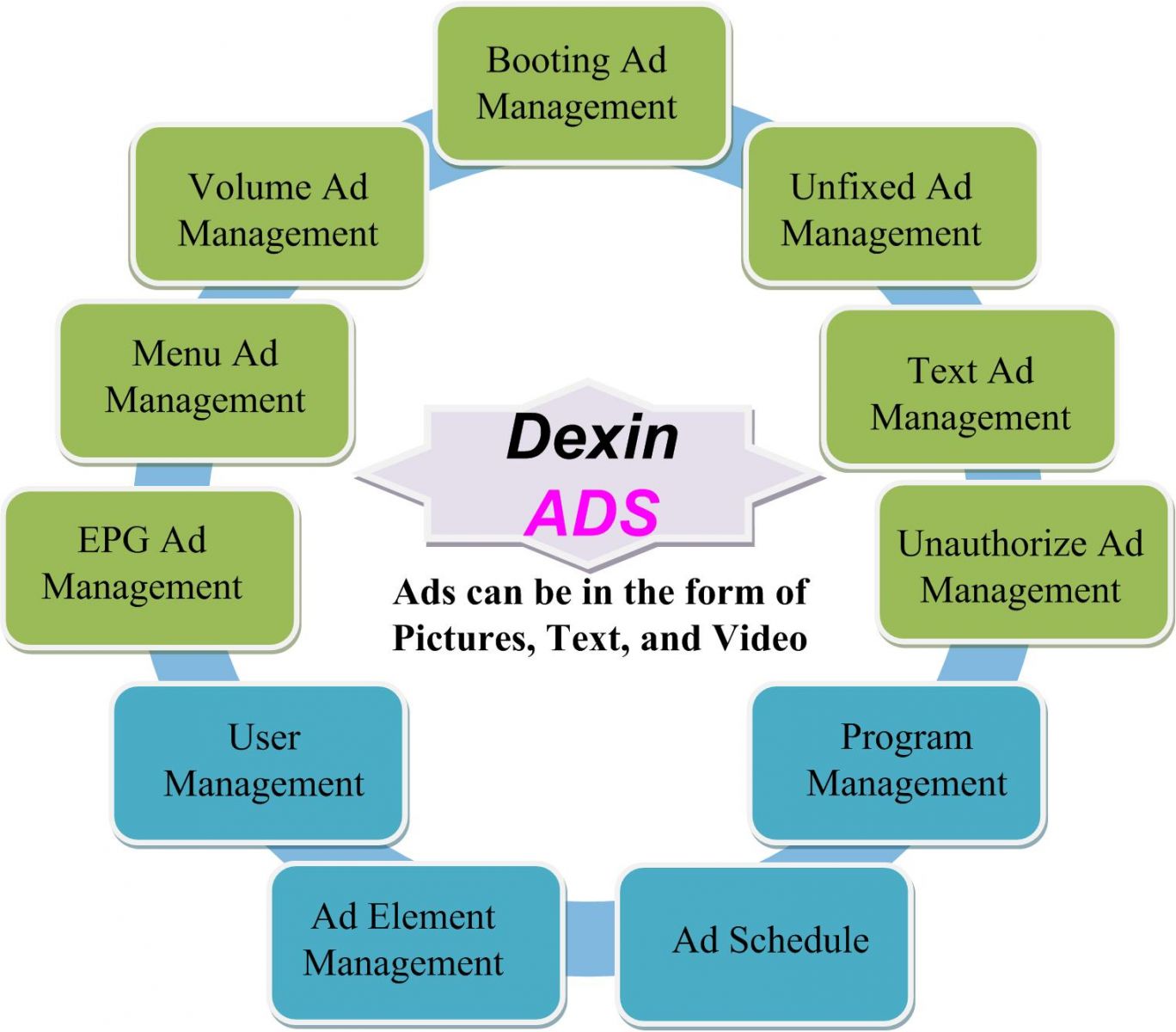 As a basic function of advertising system, user management is for setting the user ID and login password to protect your ad information.
User can import or add programs in this section and form a program table. Operators can edit information for each program as needed, like modify the program name or network ID etc.
Booting Ad refers to the startup image showing on the TV screen when the STB is turned on. The image can be a JPEG, GIF, flash or video. The duration is better to be around 5 seconds. Different startup images can not only bring fat profit to operators as this step often receives a 100% audience rating, but also make it more entertaining when the audience get their first sight of TV screen.
As a navigation page, menu is where audience enter frequently. Menu Ad is the graphics synchronously displaying with Menu page. It can be a very eye-catching picture or video and it displays for a relative long time to ensure a good effect of advertising.
Audience always change channels whenever they want to watch another program or dislike one program. It then comes an opportunity to display an Ad (a picture or a small video) next to the program information bar at the bottom of the screen. The ad duration will be as long as program info bar presents itself. Operators also can set different ads between different channel interval.
Adjusting the volume is a common activity when audience watch TV. The Ad pops out next to the volume bar at the bottom of the screen. This ad conforms to the viewing habits of audience to boost the ad contact efficiency.
This ad form is very flexible since it can be released in any channel, and placed at any place of the screen. It can be a picture or a video.
Unauthorize Ad Managemen
t
Unauthorize Ad refers to the picture or video showing on the screen when the audience browse channels and come across an unauthorized channel.
This ad is fixed to be text. It is a one-line passage scrolling at the top or bottom of the TV screen. It also can be published to the designated channel.
Ad element is a material library to offer ad content to booting ad, menu ad, volume ad and etc. Users can build an ad base to make it more convenient to insert an ad.
In this section, operators can have an overview of the settled EPG, volume and text ads and their publish channel, time duration. They also can be edited in this section, like adjusting the time duration and add new ads.