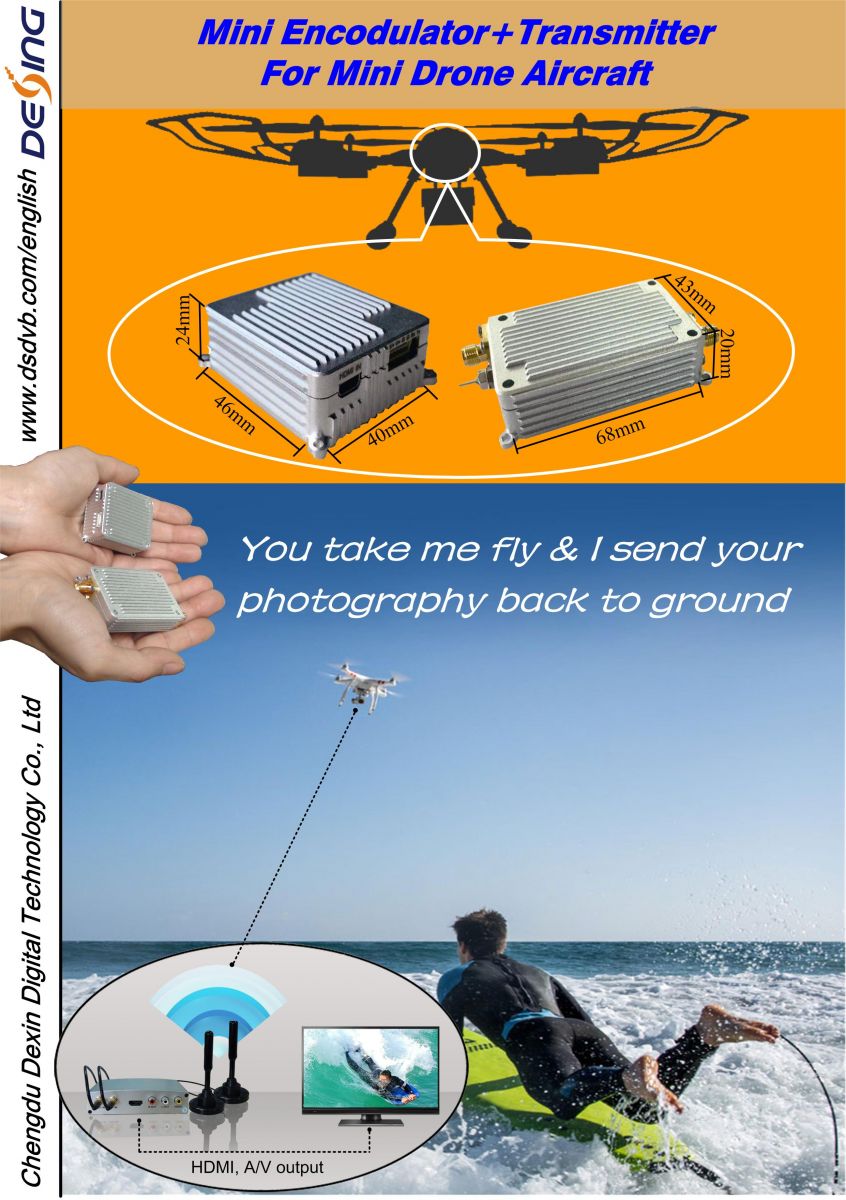 Outline
Dexin DT-7141HE mini encodulator+transmitter is a set of real-time image transmission system which is specially designed for working with mini drone aircraft. It integrates encoder, modulator, transmitter and antenna. It converts the real-time signal from the mini camera into RF and send back to ground wirelessly. The returned signal will be received by the accessory STB and displayed on TV screen.
Principle Chart

Main Features
* Support standard HDMI wireless transmission, support up to1080P resolution
* Frequency & Transmission distance: 300MHz-860MHz can reach 5-10 km; 860MHz-1500MHz can reach 1-3 km.
* Receiving frequency range: 300MHz-862MHz
* Transmission delay 300-350ms
* H.264 encoding format, high quality encoding
* Channel selectivity and channel spurious suppression characteristics
* Excellent receiving sensitivity, stable image transmission at high speed above 230km/hours
Specifications
Transmitter
Video

Interface

HDMI input

Resolution

1920x1080_60P, 1920x1080_50P

1920x1080_60i, 1920x1080_50i

1280x720_60P,1280x720_50P

720x576_50i, 720x480_60i

Video Format

PAL/NTSC

Encoding Format

MPEG-4 AVC/H.264

Bitrate

0.8Mbps~30Mbps

Rate Control

CBR

GOP Structure

IPPP

Audio

Encoding Format

MPEG-1 Layer2

Sampling Rate

48KHz

Resolution

24-bit

Bite rate

64Kbps-192Kbps

RF frequency

300~1500MHz, 10 KHz step

RF Output and Power

300MHz-860MHz, ≤1W

860MHz-1500MHz, ≤500mw

RF Interface

RF output (RPSMA )

Modulation mode

COFDM DVB-T

Bandwidth

6M,7M,8M

Transmission Rate

1-8Mbps

Code Rate

1/2, 2/3, 3/4, 5/6, 7/8

Guard Interval

1/32, 1/16, 1/8, 1/4

Constellation

QPSK, 16QAM, 64QAM

Transmission Mode

2K 8K

MER

≤25dB

Transmission Delay

300MS-350MS

Antenna interface and impedance

RPSMA male, MMCX female,impedance 50Ω

Operating Voltage

DC 24V/DC 12V

Power Consumption
≤12W

Temperature

-10℃ ~+50℃ (Operating); -20℃~75℃ (Storage)

Transmission Distance

300MHz-860MHz, 5-10km

860MHz-1500MHz, 1-3km

Weight

≤110g (antenna and cables are exclusive)

Dimension

Encodulator

46(L)*40(W)*24mm(H)

Amplifier

68(L)*43(W)*20mm(H)
Receiving Box:
Model NO

DR-2108

RF frequency

300MHz-862MHz

Input Impedance

75Ω

Signal Level

-80dBm~-10dBm

Channel Band Width

6M/7M/8M

Constellation

QPSK, 16QAM, 64QAM

Guard Interval

1/32, 1/16, 1/8, 1/4

FEC

1/2, 2/3, 3/4, 5/6, 7/8

Carrier Mode

2K 8K

Transport Stream

MPEG-4AVC/H.264HP@L4 MPEG-2 MP@HL/ML

Video Aspect Ratio

4:3/16:9

Video System

PAL/NTSC

Video Output

1±0.3Vpp

Video Resolution

HDMI

1920x1080_60P, 1920x1080_50P

1920x1080_60i, 1920x1080_50i

1280x720_60P,1280x720_50P

720x576_50i, 720x480_60i

CVBS

720x576_50i

Audio Decoder

MPEG-2/HE_AAC(DD/DD +optional)

Audio Output

R/L/ST

A/V Output interface

Video RCA Jack×1,Audiop RCA Jack(R/L) ×2

Upgrade and Multimedia Port

USB

Power Consumption

≤4.5W

Power Supply

DC+12V~24V±10%

Operating Temperature

-10℃~+50℃

Dimension

115*77*27mm